1930s -Irving Bromberg Company started in NY.
- Bromberg enters the slot-machine and peep-show market.
1940 -Registered the tradename Standard-Games.
- Opened a branch in Honolulu, Hawaii.
1945 -Change of name in SErvice-GAmes (import of electro-mechanical pinballs and slots from U.S.A.).
-Moved the facilities in 210 of Mokauea Street, Honolulu.
1950s -Atomic Jet (manufactured by Nasco) was one of the first coin-operated machines to be imported by Service Games.
1951 -Richard Stewart and Raymond LeMaire were sent in Japan in order to open a distribution office.
- Service Games files a trademark on name "Sega Bell".
1954 -Bromberg and his son Martin Bromley opened headquarters in Panama and second party in Tokyo (Service Games of Japan).
1954 -David Rosen established Rosen Enterprises in Tokyo (importation of juke-boxes and fotomat booths from America).
1960 -Bromley and his business partners built Nippon Kikai Seizo KK (slot-machines manufacturer under name SEGA INC.).
1965 -Rosen Enterprises merged with Bromley's firm.
- Stewart and Rosen established SEGA Enterprises Inc. (セガ・エンタープライゼス).
1967 -Rosen was in charge of managing director and LeMaire as planning supervisor.
- Sega counted around 1.300 employees and 38 branch offices in Japan.
1968 -Bromley and Stewart ended their involvement with Sega in Japan, but opened Segasa in Spain (pinball manufacturer).
1970 -Gulf+Western (owner of Paramount) completes its buyout of Sega.
1973 -Irving Bromberg died in Los Angeles at the age of 74.
1976 -Sega started to develop video games with the support of Gremlin Industries, Inc. in San Diego, California.
1980 -Sega moves his first steps in vector-based technology. Space Fury (1981) was one of the first colour vector games ever.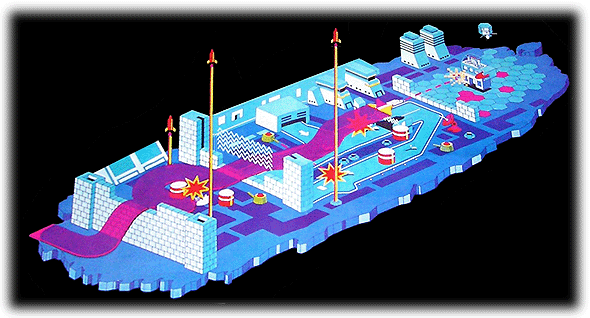 1982 -Sega/Gremlin released Zaxxon, the first isometric space shooter. It became one of its first blockbusters.
- Paramount Pictures Corp. elected to its board David Rosen, chairman and chief executive officer of Sega Enterprises Inc.
1983 -Sega launched Sg-1000 console in Japanese market.
1984 -After the North American video game crash of 1983, Sega was purchased by CSK and became a 100% Japanese owned company.
- Set up SEGA-AM1 (internal development division for arcade games) and SEGA-R&D2 (involved in software for console).
1985 -Milestones such as OutRun, Hang-on and Wonderboy were introduced in the amusement centers.
- US assets of Sega were sold to Bally Mfg Corp.
1986 -Established Sega of America. David Rosen oversee the US & overseas operations.
To be continued...