Anche questa settimana, come consuetudine, Microsoft propone giochi a prezzo scontato grazie all'iniziativa Deals With Gold, vediamo insieme le offerte.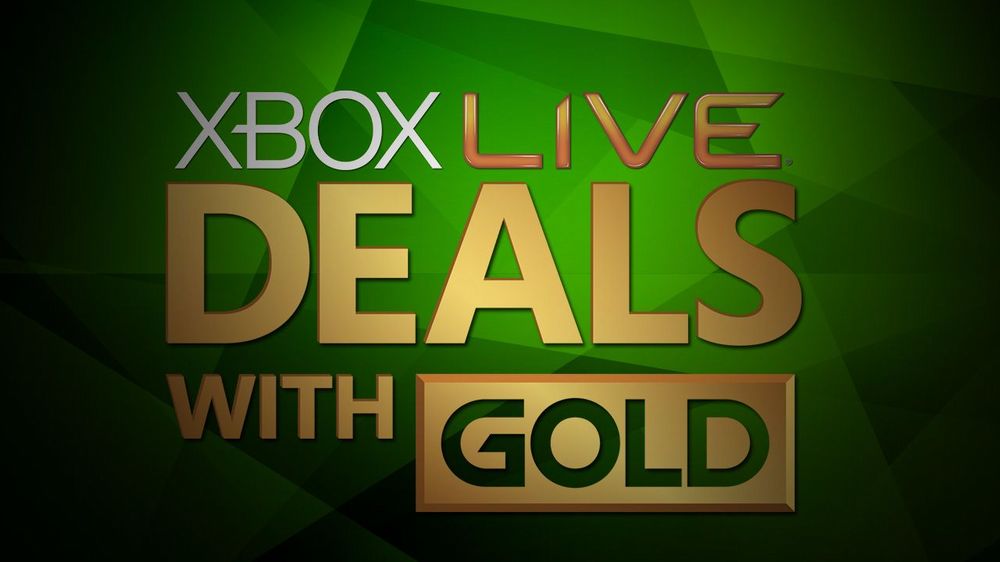 I titoli sono per Xbox One ed Xbox 360, con alcuni di questi giocabili in retrocompatibilità oppure in modalità migliorata Xbox One X Enhanced. Tra i titoli di spicco di questa settimana troviamo A Plague Tale: Innocence, le espansioni di The Witcher 3: Wild Hunt e di Dragon Ball FighterZ, Far Cry 3.
Le offerte termineranno alle 12:00 di martedi 20 gennaio.
Di seguito la lista completa:
Xbox One
| Content Title | Content Type | Discount | Notes |
| --- | --- | --- | --- |
| 200,000 VC (NBA 2K20) | Add-On | 20% | Add-On Sale |
| 450,000 VC (NBA 2K20) | Add-On | 20% | Add-On Sale |
| 75,000 VC (NBA 2K20) | Add-On | 20% | Add-On Sale |
| A Plague Tale: Innocence* | Xbox One X Enhanced | 60% | DWG |
| ACE COMBAT 7: SKIES UNKNOWN Season Pass | Add-On | 50% | Add-On Sale |
| Another World – 20th Anniversary Edition | Xbox One Game | 70% | Spotlight Sale |
| Anthem Legion of Dawn Edition Upgrade | Add-On | 80% | Add-On Sale |
| Assassin's Creed Odyssey – Legacy of the First Blade | Add-On | 50% | Add-On Sale |
| Assassin's Creed Odyssey – SEASON PASS | Add-On | 50% | Add-On Sale |
| Assassin's Creed Odyssey – The Fate of Atlantis | Add-On | 50% | Add-On Sale |
| Assassin's Creed Origins – Season Pass | Add-On | 50% | Add-On Sale |
| Batman: Arkham Knight Season Pass | Add-On | 50% | Add-On Sale |
| Battlefield V Premium Starter Pack | Add-On | 25% | Add-On Sale |
| Battlefield V – Chapter 5 Premium Booster Pack | Add-On | 25% | Add-On Sale |
| Big Buck Hunter Arcade | Xbox One Game | 75% | Spotlight Sale |
| Black Desert – 1,000 Pearls | Add-On | 20% | Add-On Sale |
| Black Desert – 10,000 Pearls | Add-On | 20% | Add-On Sale |
| Black Desert – 2,000 Pearls | Add-On | 20% | Add-On Sale |
| Black Desert – 3,000 Pearls | Add-On | 20% | Add-On Sale |
| Black Desert – 6,000 Pearls | Add-On | 20% | Add-On Sale |
| Blood Bowl 2: Official Expansion + Team Pack* | Xbox One Game | 50% | DWG |
| Brawlhalla – All Legends Pack | Add-On | 25% | Add-On Sale |
| Brawlhalla – Collectors Pack | Add-On | 10% | Add-On Sale |
| Car Mechanic Simulator – DLC MegaPack | Add-On | 20% | Add-On Sale |
| Car Mechanic Simulator – Ford DLC | Add-On | 15% | Add-On Sale |
| Car Mechanic Simulator – Maserati DLC | Add-On | 15% | Add-On Sale |
| Car Mechanic Simulator – Pagani DLC | Add-On | 15% | Add-On Sale |
| Car Mechanic Simulator – Porsche DLC | Add-On | 15% | Add-On Sale |
| Cel Damage HD* | Xbox One Game | 75% | DWG |
| Cities: Skylines – Campus | Add-On | 20% | Add-On Sale |
| Cities: Skylines – Green Cities | Add-On | 40% | Add-On Sale |
| Cities: Skylines – Industries | Add-On | 40% | Add-On Sale |
| Cities: Skylines – Mass Transit | Add-On | 40% | Add-On Sale |
| Cities: Skylines – Natural Disasters | Add-On | 40% | Add-On Sale |
| Cities: Skylines – Parklife | Add-On | 40% | Add-On Sale |
| Conan Exiles Jewel of the West Pack | Add-On | 25% | Add-On Sale |
| Conan Exiles Seekers of the Dawn Pack | Add-On | 25% | Add-On Sale |
| Conan Exiles The Imperial East Pack | Add-On | 25% | Add-On Sale |
| Conan Exiles The Savage Frontier Pack | Add-On | 25% | Add-On Sale |
| Conan Exiles Treasures of Turan Pack | Add-On | 25% | Add-On Sale |
| Cyber Complex* | Xbox One Game | 50% | DWG |
| DARK SOULS III: Ashes of Ariandel | Add-On | 50% | Add-On Sale |
| DARK SOULS III: Season Pass | Add-On | 50% | Add-On Sale |
| DARK SOULS III: The Ringed City | Add-On | 50% | Add-On Sale |
| Dead by Daylight: CURTAIN CALL Chapter | Add-On | 50% | Add-On Sale |
| Dead by Daylight: Darkness Among Us | Add-On | 50% | Add-On Sale |
| Dead by Daylight: Demise of the Faithful | Add-On | 50% | Add-On Sale |
| Dead by Daylight: Shattered Bloodline | Add-On | 50% | Add-On Sale |
| Dead by Daylight: The Stranger Things Chapter | Add-On | 30% | Add-On Sale |
| Dead Rising 4 Season Pass | Add-On | 50% | Add-On Sale |
| Dead Rising 4: Frank Rising | Add-On | 50% | Add-On Sale |
| Deus Ex: Mankind Divided – A Criminal Past | Add-On | 80% | Add-On Sale |
| Deus Ex: Mankind Divided – Assault Pack | Add-On | 75% | Add-On Sale |
| Deus Ex: Mankind Divided – Praxis Kit | Add-On | 80% | Add-On Sale |
| Deus Ex: Mankind Divided – Season Pass | Add-On | 80% | Add-On Sale |
| Deus Ex: Mankind Divided – System Rift | Add-On | 80% | Add-On Sale |
| Devil May Cry 5 100,000 Red Orbs | Add-On | 50% | Add-On Sale |
| Devil May Cry 5 5 Blue Orbs | Add-On | 20% | Add-On Sale |
| Devil May Cry 5 Deluxe Upgrade | Add-On | 20% | Add-On Sale |
| Devil May Cry 5 In-game Unlock Bundle | Add-On | 20% | Add-On Sale |
| Devil May Cry 5 Super Character 3-Pack | Add-On | 20% | Add-On Sale |
| Door Kickers: Action Squad* | Xbox One Game | 35% | DWG |
| DRAGON BALL FIGHTERZ – Android 17 | Add-On | 50% | Add-On Sale |
| DRAGON BALL FIGHTERZ – Anime Music Pack | Add-On | 50% | Add-On Sale |
| DRAGON BALL FIGHTERZ – Anime Music Pack 2 | Add-On | 50% | Add-On Sale |
| DRAGON BALL FIGHTERZ – Bardock | Add-On | 50% | Add-On Sale |
| DRAGON BALL FIGHTERZ – Broly | Add-On | 50% | Add-On Sale |
| DRAGON BALL FIGHTERZ – Commentator Voice Pack | Add-On | 50% | Add-On Sale |
| DRAGON BALL FIGHTERZ – Cooler | Add-On | 50% | Add-On Sale |
| DRAGON BALL FIGHTERZ – FighterZ Pass | Add-On | 50% | Add-On Sale |
| DRAGON BALL FIGHTERZ – Goku | Add-On | 50% | Add-On Sale |
| DRAGON BALL FIGHTERZ – SSGSS Goku and SSGSS Vegeta Unlock | Add-On | 50% | Add-On Sale |
| DRAGON BALL FIGHTERZ – SSGSS Lobby Avatars | Add-On | 50% | Add-On Sale |
| DRAGON BALL FIGHTERZ – Stamps: Girls Pack | Add-On | 50% | Add-On Sale |
| DRAGON BALL FIGHTERZ – Vegeta | Add-On | 50% | Add-On Sale |
| DRAGON BALL FIGHTERZ – Videl | Add-On | 50% | Add-On Sale |
| DRAGON BALL FIGHTERZ – Zamasu (Fused) | Add-On | 50% | Add-On Sale |
| DRAGON BALL Xenoverse 2 Pre-Order Bonus | Add-On | 50% | Add-On Sale |
| DRAGON BALL XENOVERSE 2 – Anime Music Pack 1 | Add-On | 50% | Add-On Sale |
| DRAGON BALL XENOVERSE 2 – Anime Music Pack 2 | Add-On | 50% | Add-On Sale |
| DRAGON BALL XENOVERSE 2 – Extra DLC Pack 1 | Add-On | 50% | Add-On Sale |
| DRAGON BALL XENOVERSE 2 – Extra DLC Pack 2 | Add-On | 50% | Add-On Sale |
| DRAGON BALL XENOVERSE 2 – Extra DLC Pack 3 | Add-On | 50% | Add-On Sale |
| DRAGON BALL XENOVERSE 2 – Extra DLC Pack 4 | Add-On | 50% | Add-On Sale |
| DRAGON BALL XENOVERSE 2 – Extra Pass | Add-On | 50% | Add-On Sale |
| DRAGON BALL XENOVERSE 2 – Super Pack 1 | Add-On | 50% | Add-On Sale |
| DRAGON BALL XENOVERSE 2 – Super Pack 2 | Add-On | 50% | Add-On Sale |
| DRAGON BALL XENOVERSE 2 – Super Pack 3 | Add-On | 50% | Add-On Sale |
| DRAGON BALL XENOVERSE 2 – Super Pack 4 | Add-On | 50% | Add-On Sale |
| DRAGON BALL XENOVERSE 2 – Super Pass | Add-On | 50% | Add-On Sale |
| Etherborn* | Xbox One Game | 45% | DWG |
| Euro Fishing: Bergsee | Add-On | 70% | Add-On Sale |
| Euro Fishing: Foundry Dock | Add-On | 70% | Add-On Sale |
| Euro Fishing: Le Lac d'Or | Add-On | 70% | Add-On Sale |
| Euro Fishing: Lilies | Add-On | 70% | Add-On Sale |
| Euro Fishing: Waldsee | Add-On | 70% | Add-On Sale |
| Far Cry 4 Escape From Durgesh Prison | Add-On | 60% | Add-On Sale |
| Far Cry 4 Hurk Deluxe Pack | Add-On | 60% | Add-On Sale |
| Far Cry 4 Season Pass | Add-On | 70% | Add-On Sale |
| Far Cry 4 Valley Of The Yetis | Add-On | 60% | Add-On Sale |
| Far Cry 5 Dead Living Zombies | Add-On | 33% | Add-On Sale |
| Far Cry 5 Hours Of Darkness | Add-On | 33% | Add-On Sale |
| Far Cry 5 Lost On Mars | Add-On | 33% | Add-On Sale |
| Far Cry 5 Season Pass | Add-On | 50% | Add-On Sale |
| Far Cry Primal Wenja Pack | Add-On | 60% | Add-On Sale |
| Fishing Sim World: Pro Tour – Gigantica Road Lake | Add-On | 50% | Add-On Sale |
| Fishing Sim World: Pro Tour – Jezioro Bestii | Add-On | 50% | Add-On Sale |
| Fishing Sim World: Pro Tour – Lago del mundo | Add-On | 50% | Add-On Sale |
| Fishing Sim World: Pro Tour – Lake Arnold | Add-On | 50% | Add-On Sale |
| Fishing Sim World: Pro Tour – Lake Williams | Add-On | 50% | Add-On Sale |
| For Honor – Marching Fire Expansion | Add-On | 50% | Add-On Sale |
| For Honor – Year 1 Heroes Bundle | Add-On | 50% | Add-On Sale |
| For Honor – Year 3 Pass | Add-On | 50% | Add-On Sale |
| Forza Horizon 3 Expansion Pass | Add-On | 50% | Add-On Sale |
| Forza Horizon 4 Car Pass | Add-On | 50% | Add-On Sale |
| Gift of Parthax | Xbox One Game | 50% | Spotlight Sale |
| Goat MMO Simulator | Add-On | 75% | Add-On Sale |
| Goat Simulator DLC Bundle | Add-On | 75% | Add-On Sale |
| Goat Simulator: GoatZ | Add-On | 75% | Add-On Sale |
| Goat Simulator: PAYDAY | Add-On | 75% | Add-On Sale |
| Goat Simulator: Waste Of Space | Add-On | 75% | Add-On Sale |
| GTA Megalodon Shark Cash Card | Add-On | 15% | Add-On Sale |
| HITMAN 2 – Expansion Pass | Add-On | 50% | Add-On Sale |
| Hollow* | Xbox One Game | 50% | DWG |
| I, Zombie* | Xbox One Game | 67% | DWG |
| Injustice 2 Ultimate Pack | Add-On | 50% | Add-On Sale |
| Just Cause 3 – Air, Land & Sea Expansion Pass | Add-On | 75% | Add-On Sale |
| Just Cause 3 – Bavarium Sea Heist | Add-On | 70% | Add-On Sale |
| Just Cause 3 – Capstone Bloodhound RPG | Add-On | 70% | Add-On Sale |
| Just Cause 3 – Combat Buggy | Add-On | 70% | Add-On Sale |
| Just Cause 3 – Explosive Weapon Pack | Add-On | 70% | Add-On Sale |
| Just Cause 3 – Final Argument Sniper Rifle | Add-On | 70% | Add-On Sale |
| Just Cause 3 – Kousava Rifle | Add-On | 70% | Add-On Sale |
| Just Cause 3 – Mech Land Assault | Add-On | 70% | Add-On Sale |
| Just Cause 3 – Mini-Gun Racing Boat | Add-On | 70% | Add-On Sale |
| Just Cause 3 – Reaper Missile Mech | Add-On | 70% | Add-On Sale |
| Just Cause 3 – Rocket Launcher Sports Car | Add-On | 70% | Add-On Sale |
| Just Cause 3 – Sky Fortress | Add-On | 70% | Add-On Sale |
| Just Cause 3 – Ultimate Mission, Weapon and Vehicle Pack | Add-On | 70% | Add-On Sale |
| Just Cause 4 – Expansion Pass | Add-On | 50% | Add-On Sale |
| Kerbal Space Program: Breaking Ground | Add-On | 33% | Add-On Sale |
| Kerbal Space Program: History and Parts Pack | Add-On | 25% | Add-On Sale |
| Killing Floor 2 – Badass Santa | Add-On | 50% | Add-On Sale |
| Killing Floor 2 – Headshot FX Bundle 2 | Add-On | 50% | Add-On Sale |
| Killing Floor 2 – Ion Thruster | Add-On | 50% | Add-On Sale |
| Killing Floor 2 – Mrs. Foster | Add-On | 50% | Add-On Sale |
| Killing Floor 2 – Rhino Revolver | Add-On | 50% | Add-On Sale |
| Lara Croft and the Temple of Osiris & Season Pass Pack | Xbox One Game | 85% | Add-On Sale |
| Lara Croft and the Temple of Osiris Hitman Pack | Add-On | 75% | Add-On Sale |
| Lara Croft and the Temple of Osiris Icy Death Pack | Add-On | 85% | Add-On Sale |
| Lara Croft and the Temple of Osiris Legend Pack | Add-On | 75% | Add-On Sale |
| Lara Croft and the Temple of Osiris Season Pass | Add-On | 85% | Add-On Sale |
| Lara Croft and the Temple of Osiris Twisted Gears Pack | Add-On | 85% | Add-On Sale |
| LEGO DC Super-Villains Season Pass | Add-On | 50% | Add-On Sale |
| LEGO Marvel Super Heroes 2 Season Pass | Add-On | 50% | Add-On Sale |
| LEGO Marvel's Avengers Season Pass | Add-On | 50% | Add-On Sale |
| LEGO Star Wars: The Force Awakens Season Pass | Add-On | 50% | Add-On Sale |
| Life is Strange: Before the Storm Deluxe Upgrade | Add-On | 70% | Add-On Sale |
| Madden NFL 20: Madden Ultimate Team Kickoff Pack | Add-On | 35% | Add-On Sale |
| Marvel vs. Capcom: Infinite Character Pass | Add-On | 67% | Add-On Sale |
| Marvel vs. Capcom: Infinite Premium Costume Pass | Add-On | 67% | Add-On Sale |
| Middle-Earth: Shadow of War – Expansion Pass | Add-On | 50% | Add-On Sale |
| Middle-Earth: Shadow of War – Outlaw Tribe Nemesis Expansion | Add-On | 50% | Add-On Sale |
| Middle-Earth: Shadow of War – Slaughter Tribe Nemesis Expansion | Add-On | 50% | Add-On Sale |
| Middle-Earth: Shadow of War – Story Expansion Pass | Add-On | 50% | Add-On Sale |
| Middle-Earth: Shadow of War – The Blade of Galadriel Story Expansion | Add-On | 50% | Add-On Sale |
| Middle-Earth: Shadow of War – The Desolation of Mordor Story Expansion | Add-On | 50% | Add-On Sale |
| Mining Rail* | Xbox One X Enhanced | 40% | DWG |
| Mitsurugi Kamui Hikae | Xbox One Game | 60% | Spotlight Sale |
| Mordheim: City of the Damned – Complete DLC Pack* | Xbox One Game | 50% | DWG |
| Mortal Kombat X – XL Pack | Add-On | 60% | Add-On Sale |
| NARUTO SHIPPUDEN: Ultimate Ninja STORM 4 – ROAD TO BORUTO Pack | Add-On | 50% | Add-On Sale |
| NARUTO TO BORUTO: SHINOBI STRIKER Season Pass | Add-On | 50% | Add-On Sale |
| NBA 2K Playgrounds 2 All-Star Pack – 16,000 VC | Add-On | 30% | Add-On Sale |
| NBA 2K Playgrounds 2 All-Star Pack – 16,000 VC | Add-On | 25% | Add-On Sale |
| NBA 2K Playgrounds 2 Rookie Pack – 3,000 VC | Add-On | 20% | Add-On Sale |
| ONE PIECE World Seeker Episode Pass | Add-On | 50% | Add-On Sale |
| Ping Redux | Xbox One X Enhanced | 20% | Spotlight Sale |
| Pixel Gladiator | Xbox One Game | 40% | Spotlight Sale |
| Power Rangers: Battle for the Grid – Jen Scotts – Trim Force Pink Ranger | Add-On | 25% | Add-On Sale |
| Power Rangers: Battle for the Grid – Lord Zedd Character Unlock | Add-On | 25% | Add-On Sale |
| Power Rangers: Battle for the Grid – Season One Pass | Add-On | 25% | Add-On Sale |
| Power Rangers: Battle for the Grid – Season Two Pass | Add-On | 25% | Add-On Sale |
| Power Rangers: Battle for the Grid – Trey of Triforia – Zeo Gold Character Unlock | Add-On | 25% | Add-On Sale |
| Premium Pool Arena | Xbox One Game | 60% | Spotlight Sale |
| Project CARS 2 – Ferrari Essentials Pack DLC | Add-On | 50% | Add-On Sale |
| Project CARS 2 – Fun Pack DLC | Add-On | 50% | Add-On Sale |
| Project CARS 2 – Japanese Cars Bonus Pack | Add-On | 50% | Add-On Sale |
| Project CARS 2 – Porsche Legends Pack DLC | Add-On | 50% | Add-On Sale |
| Project CARS 2 – Season Pass | Add-On | 50% | Add-On Sale |
| Project CARS 2 – Spirit of Le Mans Pack DLC | Add-On | 50% | Add-On Sale |
| Resident Evil 2 Extra DLC Pack | Add-On | 25% | Add-On Sale |
| RESIDENT EVIL 7 Banned Footage Vol.1 | Add-On | 50% | Add-On Sale |
| RESIDENT EVIL 7 Banned Footage Vol.2 | Add-On | 50% | Add-On Sale |
| RESIDENT EVIL 7 biohazard Season Pass | Add-On | 50% | Add-On Sale |
| RESIDENT EVIL 7 End of Zoe | Add-On | 50% | Add-On Sale |
| Resident Evil Revelations 2 – Season Pass | Add-On | 75% | Add-On Sale |
| Rise of the Tomb Raider: 20 Year Celebration Pack | Add-On | 75% | Add-On Sale |
| Rise of the Tomb Raider: Apex Predator | Add-On | 75% | Add-On Sale |
| Rise of the Tomb Raider: Cold Darkness Awakened | Add-On | 75% | Add-On Sale |
| Rise of the Tomb Raider: Prophet's Legacy | Add-On | 75% | Add-On Sale |
| Rise of the Tomb Raider: Remnant Resistance Pack | Add-On | 75% | Add-On Sale |
| Rise of the Tomb Raider: Siberian Ranger | Add-On | 75% | Add-On Sale |
| Rise of the Tomb Raider: Silver Pack | Add-On | 50% | Add-On Sale |
| Rise of the Tomb Raider: Sparrowhawk Pack | Add-On | 75% | Add-On Sale |
| Rise of the Tomb Raider: Tactical Survivor Pack | Add-On | 75% | Add-On Sale |
| Rise of the Tomb Raider: Valiant Explorer Pack | Add-On | 50% | Add-On Sale |
| Rise of the Tomb Raider: Wild Pack | Add-On | 75% | Add-On Sale |
| Rise of the Tomb Raider: Wilderness Survivor | Add-On | 75% | Add-On Sale |
| Shadow of the Tomb Raider Definitive Edition Extra Content | Add-On | 50% | Add-On Sale |
| Shalnor Legends: Sacred Lands* | Xbox One Game | 80% | DWG |
| SOULCALIBUR VI – Season Pass | Add-On | 50% | Add-On Sale |
| SOULCALIBUR VI – DLC1: Tira | Add-On | 50% | Add-On Sale |
| SOULCALIBUR VI – DLC2: 2B | Add-On | 50% | Add-On Sale |
| SOULCALIBUR VI – DLC3: Character Creation Set A | Add-On | 50% | Add-On Sale |
| SOULCALIBUR VI – DLC4: Amy | Add-On | 50% | Add-On Sale |
| SOULCALIBUR VI – DLC5: Character Creation Set B | Add-On | 50% | Add-On Sale |
| SOULCALIBUR VI – DLC6: Cassandra | Add-On | 50% | Add-On Sale |
| South Park: The Fractured but Whole – SEASON PASS | Add-On | 50% | Add-On Sale |
| STAR WARS Jedi: Fallen Order Deluxe Upgrade | Add-On | 20% | Add-On Sale |
| STEEP Road to the Olympics | Add-On | 60% | Add-On Sale |
| STEEP Season Pass | Add-On | 50% | Add-On Sale |
| STEEP – X Games DLC | Add-On | 20% | Add-On Sale |
| STEEP – X Games Pass | Add-On | 33% | Add-On Sale |
| STEEP- 90s DLC | Add-On | 20% | Add-On Sale |
| Stellaris: Deluxe Upgrade Pack | Add-On | 40% | Add-On Sale |
| Stellaris: Leviathans Story Pack | Add-On | 40% | Add-On Sale |
| Stellaris: Plantoids Species Pack | Add-On | 40% | Add-On Sale |
| Stellaris: Utopia | Add-On | 40% | Add-On Sale |
| Subdivision Infinity DX* | Xbox One X Enhanced | 30% | DWG |
| Surviving Mars – Season Pass | Add-On | 25% | Add-On Sale |
| Surviving Mars: Colony Design Set | Add-On | 25% | Add-On Sale |
| Surviving Mars: Green Planet Plus | Add-On | 25% | Add-On Sale |
| Surviving Mars: Project Laika | Add-On | 25% | Add-On Sale |
| Surviving Mars: Space Race Plus | Add-On | 25% | Add-On Sale |
| SWORD ART ONLINE: FATAL BULLET Complete Upgrade | Add-On | 50% | Add-On Sale |
| SWORD ART ONLINE: FATAL BULLET Dissonance of the Nexus | Add-On | 50% | Add-On Sale |
| Tacoma* | Xbox Game Pass | 75% | DWG |
| TEKKEN 7 – DLC1: Ultimate TEKKEN BOWL & Additional Costumes | Add-On | 50% | Add-On Sale |
| TEKKEN 7 – DLC2: Geese Howard Pack | Add-On | 50% | Add-On Sale |
| TEKKEN 7 – DLC3: Noctis Lucis Caelum Pack | Add-On | 50% | Add-On Sale |
| TEKKEN 7 – DLC4: Anna Williams | Add-On | 50% | Add-On Sale |
| TEKKEN 7 – DLC5: Lei Wulong | Add-On | 50% | Add-On Sale |
| TEKKEN 7 – DLC6: Craig Marduk | Add-On | 50% | Add-On Sale |
| TEKKEN 7 – DLC7: Armor King | Add-On | 50% | Add-On Sale |
| TEKKEN 7 – DLC8: Julia Chang | Add-On | 50% | Add-On Sale |
| TEKKEN 7 – DLC9: Negan | Add-On | 50% | Add-On Sale |
| TEKKEN 7 – Eliza | Add-On | 50% | Add-On Sale |
| TEKKEN 7 – Season Pass | Add-On | 50% | Add-On Sale |
| THE CREW 2 – Season Pass | Add-On | 50% | Add-On Sale |
| The Escapists + The Escapists 2* | Xbox One Game | 75% | DWG |
| The Escapists 2 Season Pass | Add-On | 67% | Spotlight Sale |
| The Escapists DLC Bundle | Xbox One Game | 75% | Spotlight Sale |
| The Golf Club 2019 feat. PGA TOUR – 14,300 Currency | Add-On | 30% | Add-On Sale |
| The Golf Club 2019 feat. PGA TOUR – 28,275 Currency | Add-On | 40% | Add-On Sale |
| The Golf Club 2019 feat. PGA TOUR – 6,000 Currency | Add-On | 20% | Add-On Sale |
| The Infectious Madness of Doctor Dekker | Xbox One Game | 40% | Spotlight Sale |
| The Surge 2* | Xbox One X Enhanced | 50% | DWG |
| The Witcher 3: Hearts of Stone | Add-On | 60% | Add-On Sale |
| The Witcher 3: Wild Hunt Expansion Pass | Add-On | 60% | Add-On Sale |
| The Witcher 3: Wild Hunt – Blood and Wine | Add-On | 60% | Add-On Sale |
| theHunter: Call of the Wild – High-Tech Hunting Pack | Add-On | 30% | Add-On Sale |
| theHunter: Call of the Wild – Saseka Safari Trophy Lodge | Add-On | 25% | Add-On Sale |
| theHunter: Call of the Wild – Treestand & Tripod Pack | Add-On | 40% | Add-On Sale |
| theHunter: Call of the Wild – Weapon Pack 2 | Add-On | 30% | Add-On Sale |
| theHunter: Call of the Wild – Yukon Valley | Add-On | 30% | Add-On Sale |
| Thief – Booster Pack: Ghost | Add-On | 67% | Add-On Sale |
| Thief – Booster Pack: Opportunist | Add-On | 50% | Add-On Sale |
| Thief – Booster Pack: Predator | Add-On | 50% | Add-On Sale |
| Thief – The Bank Heist | Add-On | 85% | Add-On Sale |
| Thief – The Forsaken – Challenge Map | Add-On | 85% | Add-On Sale |
| Tom Clancy's Ghost Recon Wildlands – Season Pass | Add-On | 60% | Add-On Sale |
| Tom Clancy's Ghost Recon Wildlands – Year 2 Pass | Add-On | 50% | Add-On Sale |
| Tom Clancy's Rainbow Six Siege – Year 4 Pass | Add-On | 40% | Add-On Sale |
| Tom Clancy's The Division 2 – Year 1 Pass | Add-On | 70% | Add-On Sale |
| Tom Clancy's The Division Season Pass | Add-On | 75% | Add-On Sale |
| Tour de France 2019* | Xbox One Game | 50% | DWG |
| Train Sim World: BR Class 52 | Add-On | 40% | Add-On Sale |
| Train Sim World: DB BR 155 | Add-On | 40% | Add-On Sale |
| Train Sim World: Long Island Rail Road | Add-On | 60% | Add-On Sale |
| Train Sim World: Main Spessart Bahn: Aschaffenburg – Gemünden Route Add-On | Add-On | 60% | Add-On Sale |
| Train Sim World: Northern Trans-Pennine | Add-On | 60% | Add-On Sale |
| Trials Rising – Expansion pass | Add-On | 50% | Add-On Sale |
| Truck Racing Championship* | Xbox One X Enhanced | 50% | DWG |
| Turok* | Xbox One Game | 75% | DWG |
| Tyd wag vir Niemand* | Xbox Play Anywhere | 30% | DWG |
| Watch_Dogs2 – Season Pass | Add-On | 60% | Add-On Sale |
| We Happy Few Season Pass | Add-On | 50% | Add-On Sale |
| We Happy Few – Lightbearer | Add-On | 50% | Add-On Sale |
| We Happy Few – Roger & James in They Came From Below | Add-On | 50% | Add-On Sale |
| WWE 2K20 Originals: Bump in the Night | Add-On | 33% | Add-On Sale |
Xbox 360
*Offerte valide solo per membri Xbox Live Gold