Anche questa settimana, come consuetudine, Microsoft propone numerosi giochi a prezzo scontato grazie all'iniziativa Deals With Gold. Vediamo insieme le offerte.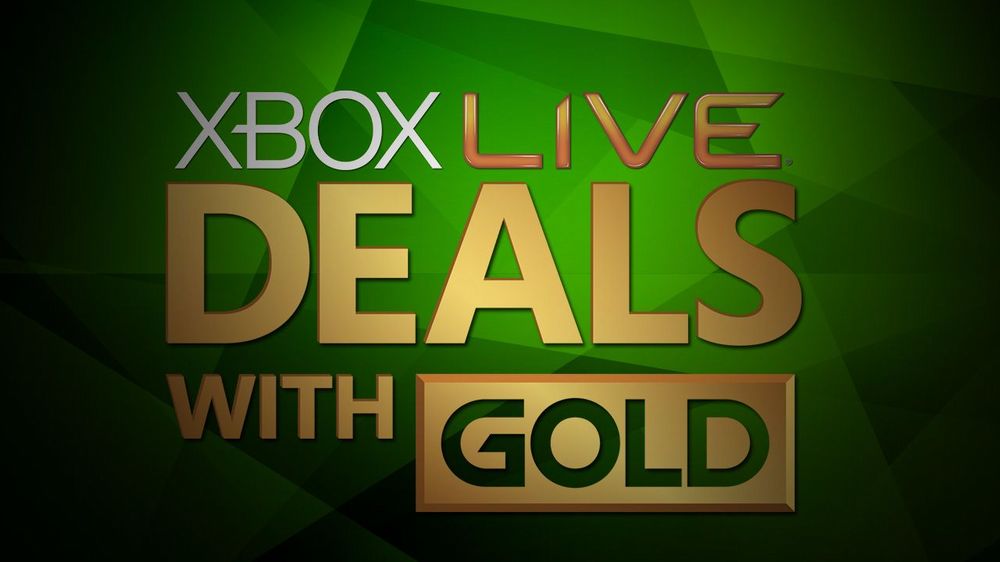 Sono davvero tantissimi i titoli che per Xbox One ed Xbox 360, con alcuni di questi giocabili in retrocompatibilità oppure in modalità migliorata Xbox One X Enhanced, vengono proposti in saldo. Tra i titoli di spicco di questa settimana troviamo Overwatch, The Witcher, Deus Ex e tantissimi altri.
Le offerte termineranno alle 12:00 di martedi 26 maggio.
Di seguito la lista completa:
Xbox One
| Content Title | Content Type | Discount | Notes |
| --- | --- | --- | --- |
| 1979 Revolution: Black Friday | Xbox One Game | 70% | New Stories, New Voices |
| 39 Days to Mars | Xbox One Game | 33% | New Stories, New Voices |
| A Plague Tale: Innocence | Xbox Game Pass | 75% | Publisher Sale |
| A Way Out | Xbox One X Enhanced | 75% | Super Saver Sale |
| A Winter's Daydream | Xbox One X Enhanced | 40% | New Stories, New Voices |
| Aaero | Xbox One X Enhanced | 70% | Super Saver Sale |
| Aces of the Luftwaffe Squadron – Extended Edition | Xbox One Game | 60% | Super Saver Sale |
| Adventures of Bertram Fiddle: Episode 1: A Dreadly Business | Xbox One Game | 75% | Super Saver Sale |
| Afterparty | Xbox Game Pass | 50% | New Stories, New Voices |
| Agent A: A Puzzle In Disguise | Xbox One X Enhanced | 70% | Super Saver Sale |
| Agents of Mayhem | Xbox One X Enhanced | 80% | Super Saver Sale |
| Agony | Xbox One Game | 80% | Super Saver Sale |
| Ailment | Xbox One X Enhanced | 30% | DWG |
| Ancestors Legacy | Xbox One X Enhanced | 50% | Super Saver Sale |
| Ancestors: The Humankind Odyssey | Xbox One Game | 50% | Super Saver Sale |
| Anima: Gate of Memories | Xbox One Game | 60% | Super Saver Sale |
| Another Sight | Xbox One X Enhanced | 50% | New Stories, New Voices |
| Anthem | Xbox One X Enhanced | 85% | DWG |
| Anthem: Legion of Dawn Edition | Xbox One X Enhanced | 85% | DWG |
| ARCADE GAME SERIES 3-in-1 Pack | Xbox One Game | 50% | Spotlight Sale |
| ARCADE GAME SERIES: DIG DUG | Xbox One Game | 50% | Spotlight Sale |
| ARCADE GAME SERIES: GALAGA | Xbox One Game | 50% | Spotlight Sale |
| ARCADE GAME SERIES: Ms. PAC-MAN | Xbox One Game | 50% | Spotlight Sale |
| ARCADE GAME SERIES: PAC-MAN | Xbox One Game | 50% | Spotlight Sale |
| Aritana and the Harpy's Feather | Xbox One Game | 50% | New Stories, New Voices |
| Aritana and the Twin Masks | Xbox One Game | 50% | New Stories, New Voices |
| Banner Saga 3 | Xbox Game Pass | 50% | Super Saver Sale |
| Batman: Arkham Collection | Xbox Game Pass | 67% | Super Saver Sale |
| Batman: Arkham Knight Premium Edition | Xbox Game Pass | 70% | Super Saver Sale |
| Batman: The Enemy Within – The Complete Season (Episodes 1-5) | Xbox One Game | 50% | DWG |
| Beast Quest | Xbox One Game | 80% | Spotlight Sale |
| Beatsplosion for Kinect | Xbox One Game | 80% | Super Saver Sale |
| BioShock: The Collection | Xbox One Game | 80% | Super Saver Sale |
| Black Desert – Deluxe Edition | Xbox One X Enhanced | 50% | Super Saver Sale |
| Black Desert – Standard Edition | Xbox One X Enhanced | 50% | Super Saver Sale |
| Black Desert – Ultimate Edition | Xbox One X Enhanced | 50% | Super Saver Sale |
| Black The Fall | Xbox One Game | 70% | Super Saver Sale |
| Blood Bowl 2 – Legendary Edition | Xbox One Game | 80% | Publisher Sale |
| Blood Waves | Xbox One Game | 50% | Super Saver Sale |
| Bloodstained: Ritual Of The Night | Xbox Game Pass | 50% | Super Saver Sale |
| Boiling Bolt | Xbox One Game | 80% | Spotlight Sale |
| Borderlands 3 Deluxe Edition | Xbox One X Enhanced | 50% | Super Saver Sale |
| Borderlands 3 Season Pass | Add-On | 20% | DWG |
| Brothers: A Tale Of Two Sons | Xbox Game Pass | 80% | Super Saver Sale |
| Bundle: South Park: The Stick of Truth + The Fractured But Whole | Xbox One Game | 67% | Super Saver Sale |
| Call of Cthulhu | Xbox One X Enhanced | 75% | Publisher Sale |
| CAN ANDROIDS PRAY: BLUE | Xbox One X Enhanced | 50% | New Stories, New Voices |
| Capcom Beat 'Em Up Bundle | Xbox One Game | 50% | Super Saver Sale |
| Castle Crashers Remastered | Xbox One Game w/ Free Trial | 60% | DWG |
| Celeste | Xbox One Game | 50% | New Stories, New Voices |
| Claybook | Xbox One X Enhanced | 60% | DWG |
| Contra: Rogue Corps | Xbox One X Enhanced | 75% | Super Saver Sale |
| Control | Xbox One X Enhanced | 50% | Super Saver Sale |
| Cruz Brothers | Xbox One Game | 60% | Super Saver Sale |
| Dandara: Trials of Fear Edition | Xbox One Game | 60% | New Stories, New Voices |
| DayZ | Xbox One X Enhanced | 40% | DWG |
| Dead Alliance | Xbox One Game | 80% | Spotlight Sale |
| Dead Alliance: Multiplayer Edition | Xbox One Game | 80% | Spotlight Sale |
| Dead Island: Riptide Definitive Edition | Xbox One Game | 75% | Super Saver Sale |
| Dead Rising Triple Bundle Pack | Xbox One Game | 75% | Super Saver Sale |
| Deadbeat Heroes | Xbox One Game | 70% | Super Saver Sale |
| Dear Esther: Landmark Edition | Xbox One Game | 70% | New Stories, New Voices |
| Demetrios – The BIG Cynical Adventure | Xbox One Game | 80% | Spotlight Sale |
| Deus Ex: Mankind Divided | Xbox Game Pass | 85% | Super Saver Sale |
| Deus Ex: Mankind Divided – Digital Deluxe Edition | Xbox Game Pass | 85% | Super Saver Sale |
| Devil May Cry 4 Special Edition | Xbox One Game | 70% | Super Saver Sale |
| Devil May Cry 4 Special Edition Demon Hunter Bundle | Xbox One Game | 75% | Super Saver Sale |
| Die for Valhalla! | Xbox One Game | 60% | Super Saver Sale |
| DmC Devil May Cry: Definitive Edition | Xbox One Game | 67% | Super Saver Sale |
| Draugen | Xbox One X Enhanced | 50% | Super Saver Sale |
| EA Sports FIFA 20 | Xbox One X Enhanced | 70% | DWG |
| Emily Wants To Play | Xbox One Game | 65% | Super Saver Sale |
| Emily Watns To Play Too | Xbox One Game | 65% | Super Saver Sale |
| Energy Cycle Edge | Xbox One X Enhanced | 50% | Super Saver Sale |
| F1 2019 | Xbox One X Enhanced | 75% | Super Saver Sale |
| F1 2019 Legends Edition Senna & Prost | Xbox One X Enhanced | 75% | Super Saver Sale |
| Far-Out | Xbox One Game | 25% | DWG |
| Farming Simulator 19 | Xbox One X Enhanced | 40% | Publisher Sale |
| Farming Simulator 19 – Premium Edition | Xbox One X Enhanced | 40% | Publisher Sale |
| Farming Simulator 19 – Season Pass | Add-On | 40% | Publisher Sale |
| Fear Effect Sedna | Xbox One Game | 85% | Super Saver Sale |
| Fighter Within | Xbox One Game | 75% | Super Saver Sale |
| Firewatch | Xbox One Game | 75% | New Stories, New Voices |
| For The King | Xbox Game Pass | 65% | Super Saver Sale |
| Forgotton Anne | Xbox One Game | 60% | Super Saver Sale |
| Fragments Of Him | Xbox One Game | 65% | New Stories, New Voices |
| Freedom Finger | Xbox One Game | 25% | Spotlight Sale |
| Furi | Xbox One Game | 70% | Super Saver Sale |
| Generation Zero – Island Bundle | Xbox One Game | 50% | Super Saver Sale |
| Gnomes Garden 2 | Xbox One Game | 50% | Spotlight Sale |
| Golem Gates | Xbox One X Enhanced | 67% | Super Saver Sale |
| Gone Home: Console Edition | Xbox One Game | 50% | New Stories, New Voices |
| Goosebumps: The Game | Xbox One Game | 75% | Super Saver Sale |
| Grand Theft Auto V – Megalodon Shark Cash Card | Add-On | 15% | DWG |
| Grand Theft Auto V: Premium Online Edition | Xbox One Game | 50% | Super Saver Sale |
| GreedFall | Xbox One X Enhanced | 67% | Publisher Sale |
| GRIDD: Retroenhanced | Xbox One X Enhanced | 70% | Super Saver Sale |
| Gryphon Knight Epic | Xbox One Game | 50% | Super Saver Sale |
| Hellblade: Senua's Sacrifice | Xbox Game Pass | 50% | New Stories, New Voices |
| Hitman 2 – Gold Edition | Xbox One X Enhanced | 70% | Super Saver Sale |
| Homefront: The Revolution | Xbox One X Enhanced | 80% | Super Saver Sale |
| Homefront: The Revolution Expansion Pass | Add-On | 75% | Super Saver Sale |
| How To Survive 2 | Xbox One Game | 80% | Super Saver Sale |
| Hunting Simulator | Xbox One Game | 85% | Super Saver Sale |
| HyperDot | Xbox Play Anywhere | 25% | New Stories, New Voices |
| I, Hope | Xbox One Game | 70% | New Stories, New Voices |
| In Between | Xbox One Game | 60% | New Stories, New Voices |
| Indie darling Bundle vol. 2 | Xbox One Game | 67% | DWG |
| Inferno 2+ | Xbox One Game | 30% | Spotlight Sale |
| Injustice 2 – Legendary Edition | Xbox One X Enhanced | 60% | Super Saver Sale |
| Just Cause 3 | Xbox One Game | 75% | Super Saver Sale |
| Just Cause 3: XXL Edition | Xbox One Game | 75% | Super Saver Sale |
| Just Cause 4 – Complete Edition | Xbox Game Pass | 70% | Super Saver Sale |
| Just Cause 4 – Gold Edition | Xbox Game Pass | 70% | Super Saver Sale |
| Just Cause 4 – Reloaded | Xbox Game Pass | 65% | Super Saver Sale |
| Ken Follett's The Pillars of the Earth | Xbox One Game | 80% | New Stories, New Voices |
| Kentucky Route Zero: TV Edition | Xbox One X Enhanced | 25% | New Stories, New Voices |
| Kerbal Space Program: History and Parts Pack | Add-On | 33% | DWG |
| Kholat | Xbox One Game | 75% | New Stories, New Voices |
| Kill The Bad Guy | Xbox One Game | 67% | Spotlight Sale |
| Kona | Xbox Game Pass | 80% | Super Saver Sale |
| L.A. Noire | Xbox One X Enhanced | 50% | Super Saver Sale |
| LA Cops | Xbox One Game | 80% | DWG |
| Lara Croft And The Temple Of Osiris | Xbox One Game | 80% | Super Saver Sale |
| Late Shift | Xbox One Game | 50% | Super Saver Sale |
| LEGO Batman 3: Beyond Gotham Deluxe Edition | Xbox One Game | 75% | Super Saver Sale |
| LEGO DC Super-Villains Deluxe Edition | Xbox One X Enhanced | 70% | Super Saver Sale |
| LEGO Harry Potter Collection | Xbox One X Enhanced | 50% | Super Saver Sale |
| LEGO Marvel Collection | Xbox One Game | 50% | Super Saver Sale |
| LEGO Marvel Super Heroes 2 Deluxe Edition | Xbox One X Enhanced | 70% | Super Saver Sale |
| LEGO Marvel's Avengers Deluxe Edition | Xbox One Game | 67% | Super Saver Sale |
| LEGRAND LEGACY: Tale of the Fatebounds | Xbox Play Anywhere | 40% | DWG |
| Life Is Strange 2 – Complete Season | Xbox Game Pass | 60% | Super Saver Sale |
| Life Is Strange 2 – Episode 1 | Xbox Game Pass | 75% | Super Saver Sale |
| Life is Strange Complete Season (Episodes 1-5) | Xbox One Game | 80% | Super Saver Sale |
| Life Is Strange: Before The Storm Complete Season | Xbox One X Enhanced | 80% | Super Saver Sale |
| Life Is Strange: Before The Storm Deluxe Edition | Xbox One X Enhanced | 80% | Super Saver Sale |
| Lost Artifacts: Time Machine | Xbox One Game | 60% | Super Saver Sale |
| Lost Ember | Xbox One Game | 40% | New Stories, New Voices |
| Madden NFL 20 | Xbox One X Enhanced | 70% | DWG |
| Marvel Vs Capcom: Infinite | Xbox Game Pass | 75% | Super Saver Sale |
| Masters of Anima | Xbox One X Enhanced | 80% | Publisher Sale |
| Mega Man 11 | Xbox One X Enhanced | 50% | Super Saver Sale |
| Mega Man Legacy Collection | Xbox One Game | 60% | Super Saver Sale |
| Mega Man Legacy Collection 1 & 2 Combo Pack | Xbox One Game | 50% | Super Saver Sale |
| Mega Man Legacy Collection 2 | Xbox One Game | 50% | Super Saver Sale |
| Mega Man X Legacy Collection | Xbox One Game | 50% | Super Saver Sale |
| Mega Man X Legacy Collection 1+2 | Xbox One Game | 50% | Super Saver Sale |
| Mega Man X Legacy Collection 2 | Xbox One Game | 50% | Super Saver Sale |
| Middle-earth: Shadow of War Definitive Edition | Xbox Game Pass | 50% | Super Saver Sale |
| Mighty No. 9 | Xbox One Game | 80% | Super Saver Sale |
| Mirror's Edge Catalyst | Xbox One Game | 75% | Super Saver Sale |
| Monica e a Guarda dos Coelhos | Xbox One Game | 80% | New Stories, New Voices |
| Monster Energy Supercross 2 – Season Pass | Add-On | 60% | Super Saver Sale |
| Monster Energy Supercross 2 – Special Edition | Xbox One X Enhanced | 60% | Super Saver Sale |
| Monster Energy Supercross – The Official Videogame 2 | Xbox One X Enhanced | 60% | Super Saver Sale |
| Mordheim: City of the Damned – Complete Edition | Xbox One Game | 80% | Publisher Sale |
| MotoGP 18 | Xbox One X Enhanced | 70% | Super Saver Sale |
| Mr. Shifty | Xbox One Game w/ Free Trial | 75% | Super Saver Sale |
| MudRunner – American Wilds Edition | Xbox Game Pass | 50% | Publisher Sale |
| Mulaka | Xbox One Game | 65% | New Stories, New Voices |
| Murdered: Soul Suspect | Xbox One Game | 85% | Super Saver Sale |
| Mutant Football League | Xbox One Game w/ Free Trial | 50% | Super Saver Sale |
| Mutant Football League – Dynasty Edition | Xbox One Game | 50% | Super Saver Sale |
| MXGP Pro | Xbox One X Enhanced | 70% | Super Saver Sale |
| MXGP3 | Xbox One Game | 80% | Super Saver Sale |
| My Memory of Us | Xbox One Game | 70% | New Stories, New Voices |
| n Verlore Verstand | Xbox One Game | 70% | New Stories, New Voices |
| NBA 2K Playgrounds 2 | Xbox One Game | 75% | Super Saver Sale |
| NBA 2K20 Digital Deluxe | Xbox Game Pass | 70% | DWG |
| Need For Speed Heat Deluxe Edition | Xbox One X Enhanced | 60% | DWG |
| Never Alone (Kisima Ingitchuna) | Xbox One Game | 80% | New Stories, New Voices |
| Never Alone Arctic Collection | Xbox One Game | 80% | New Stories, New Voices |
| Never Alone: Foxtales | Add-On | 50% | New Stories, New Voices |
| NHL 20 | Xbox One X Enhanced | 67% | DWG |
| Night in the Woods | Xbox One Game | 40% | New Stories, New Voices |
| Nine Parchments | Xbox One X Enhanced | 75% | Super Saver Sale |
| Nippon Marathon | Xbox One Game | 67% | New Stories, New Voices |
| Octahedron | Xbox One Game w/ Free Trial | 50% | Super Saver Sale |
| Oh My Godheads | Xbox One Game | 80% | Super Saver Sale |
| Old Man's Journey | Xbox Game Pass | 75% | New Stories, New Voices |
| Onimusha: Warlords | Xbox One Game | 50% | Super Saver Sale |
| Outbreak: The Nightmare Collection | Xbox One X Enhanced | 60% | Super Saver Sale |
| Overwatch Legendary Edition | Xbox One X Enhanced | 67% | DWG |
| PAC-MAN 256 | Xbox One Game | 50% | Spotlight Sale |
| Payday 2 – Crimewave Edition – The Big Score DLC Bundle! | Add-On | 75% | Super Saver Sale |
| Payday 2: Crimewave Edition | Xbox Game Pass | 75% | Super Saver Sale |
| Pillar by Michael Hicks and Gonçalo Antunes | Xbox One Game w/ Free Trial | 65% | New Stories, New Voices |
| Pipe Push Paradise | Xbox One Game | 67% | DWG |
| Pirates of First Star | Xbox One X Enhanced | 50% | DWG |
| Pit People | Xbox One Game | 60% | DWG |
| Planet of the Apes: Last Frontier | Xbox One Game | 65% | Super Saver Sale |
| Plants vs. Zombies: Battle For Neighborville | Xbox One X Enhanced | 50% | DWG |
| Plants vs. Zombies: Battle for Neighborville Deluxe Edition | Xbox One X Enhanced | 50% | DWG |
| Rabbids Invasion : The Interactive TV Show | Xbox One Game w/ Free Trial | 50% | Super Saver Sale |
| Red Dead Redemption 2: Ultimate Edition | Xbox One X Enhanced | 60% | Super Saver Sale |
| Rise of The Tomb Raider – 20 Year Celebration | Xbox Game Pass | 70% | Super Saver Sale |
| Rocksmith 2014 Edition – Remastered | Xbox One Game | 67% | Super Saver Sale |
| Saints Row: Gat Out Of Hell | Xbox One Game | 75% | Super Saver Sale |
| Seasons after Fall | Xbox One Game | 80% | Publisher Sale |
| Seek Hearts | Xbox Play Anywhere | 30% | DWG |
| Shadow Of The Tomb Raider Definitive Edition | Xbox One X Enhanced | 67% | Super Saver Sale |
| Shape Up Gold Edition | Xbox One Game | 80% | Super Saver Sale |
| Sherlock Holmes: Crimes and Punishments Redux | Xbox One Game | 50% | Super Saver Sale |
| Sherlock Holmes: The Devil's Daughter | Xbox One Game | 80% | Super Saver Sale |
| Shiness: The Lightning Kingdom | Xbox One Game | 80% | Publisher Sale |
| Sid Meier's Civilization VI | Xbox One X Enhanced | 35% | DWG |
| Silence – The Whispered World 2 | Xbox Game Pass | 80% | New Stories, New Voices |
| Sleeping Dogs Definitive Edition | Xbox One Game | 85% | Super Saver Sale |
| Sniper Elite 3 Ultimate Edition | Xbox One Game | 75% | Super Saver Sale |
| SNK 40th Anniversary Collection | Xbox One X Enhanced | 50% | Super Saver Sale |
| SnowRunner | Xbox One X Enhanced | 15% | Publisher Sale |
| SolSeraph | Xbox One Game | 60% | Super Saver Sale |
| South Park: The Fractured But Whole | Xbox One Game w/ Free Trial | 70% | Super Saver Sale |
| South Park: The Fractured But Whole – Gold Edition | Xbox One Game | 70% | Super Saver Sale |
| South Park: The Stick Of Truth | Xbox One Game | 60% | Super Saver Sale |
| SpeedRunners | Xbox One Game w/ Free Trial | 75% | Super Saver Sale |
| Star Wars Battlefront II | Xbox One X Enhanced | 60% | DWG |
| Star Wars Battlefront II Celebration Edition Upgrade | Add-On | 50% | DWG |
| Star Wars Battlefront II: Celebration Edition | Xbox One X Enhanced | 50% | DWG |
| Star Wars Battlefront Ultimate Edition | Xbox One Game | 75% | DWG |
| Starpoint Gemini 2 | Xbox One Game w/ Free Trial | 80% | DWG |
| Starpoint Gemini 2 Gold Pack | Xbox One Game | 80% | DWG |
| Starpoint Gemini 2: Secrets of Aethera | Add-On | 80% | Spotlight Sale |
| Starpoint Gemini 2: Titans | Add-On | 80% | Spotlight Sale |
| STAY | Xbox One Game | 50% | New Stories, New Voices |
| Steel Rats | Xbox One Game | 75% | DWG |
| STEEP | Xbox One X Enhanced | 50% | Super Saver Sale |
| Steep and The Crew | Xbox One Game | 80% | Super Saver Sale |
| STEEP X Games Gold Edition | Xbox One X Enhanced | 60% | Super Saver Sale |
| STONE | Xbox One X Enhanced | 50% | New Stories, New Voices |
| Storm Boy | Xbox One X Enhanced | 80% | New Stories, New Voices |
| Street Fighter 30th Anniversary Collection | Xbox One Game | 60% | Super Saver Sale |
| Street Outlaws: The List | Xbox One Game | 67% | Super Saver Sale |
| Strider | Xbox One Game | 80% | Super Saver Sale |
| Styx: Shards of Darkness | Xbox One Game | 80% | Publisher Sale |
| Sublevel Zero Redux | Xbox One Game | 75% | Spotlight Sale |
| Super Blood Hockey | Xbox One Game | 70% | Super Saver Sale |
| Super Bomberman R | Xbox One Game | 75% | Super Saver Sale |
| SUPERHOT | Xbox Game Pass | 60% | Super Saver Sale |
| Tacoma | Xbox Game Pass | 50% | New Stories, New Voices |
| Team Sonic Racing & Super Monkey Ball: Banana Blitz HD | Xbox One Game | 10% | DWG |
| Terraria | Xbox Game Pass | 70% | Super Saver Sale |
| The Book of Unwritten Tales 2 | Xbox One Game | 80% | Super Saver Sale |
| The BunnyLord Pro Hater Pack | Xbox One Game | 70% | Super Saver Sale |
| The Council – Complete Season | Xbox One Game | 75% | Publisher Sale |
| The Crew | Xbox One Game w/ Free Trial | 60% | Super Saver Sale |
| The Crew 2 – Deluxe Edition | Xbox One X Enhanced | 75% | Super Saver Sale |
| The Crew 2 – Gold Edition | Xbox One X Enhanced | 70% | Super Saver Sale |
| The Crew 2 – Standard Edition | Xbox One X Enhanced | 75% | Super Saver Sale |
| The Crew and Trackmania Turbo | Xbox One Game | 80% | Super Saver Sale |
| The Crew Ultimate Edition | Xbox One Game | 70% | Super Saver Sale |
| The Disney Afternoon Collection | Xbox One Game | 75% | Super Saver Sale |
| The Dwarves | Xbox One Game | 80% | Super Saver Sale |
| The Escapists 2 | Xbox Game Pass | 70% | Super Saver Sale |
| The Escapists 2 – Dungeons and Duct Tape | Add-On | 50% | Spotlight Sale |
| The Escapists 2 – Game Of The Year Edition | Xbox Game Pass | 70% | DWG |
| The Escapists 2 – Season Pass | Add-On | 50% | Spotlight Sale |
| The Escapists 2 – The Glorious Regime | Add-On | 50% | Spotlight Sale |
| The First Tree | Xbox One X Enhanced | 70% | New Stories, New Voices |
| The Flame in the Flood | Xbox Game Pass | 75% | Super Saver Sale |
| The Gardens Between | Xbox Game Pass | 65% | New Stories, New Voices |
| The Incredible Adventures of Van Helsing: Complete Trilogy | Xbox One Game | 67% | Super Saver Sale |
| The Jackbox Party Pack 2 | Xbox Game Pass | 50% | Super Saver Sale |
| The Jackbox Party Pack 4 | Xbox One Game | 50% | Super Saver Sale |
| The King's Bird | Xbox One Game | 75% | New Stories, New Voices |
| The Little Acre | Xbox One Game | 75% | New Stories, New Voices |
| The Mooseman | Xbox One X Enhanced | 50% | New Stories, New Voices |
| The Padre | Xbox One Game | 60% | Super Saver Sale |
| The Path of Motus | Xbox One Game w/ Free Trial | 65% | New Stories, New Voices |
| The Sinking City | Xbox One Game | 60% | Super Saver Sale |
| The Sinking City – Necronomicon Edition | Xbox One Game | 60% | Super Saver Sale |
| The Station | Xbox One Game | 67% | Spotlight Sale |
| The Surge 2 | Xbox Game Pass | 70% | Publisher Sale |
| The Surge 2 – Premium Edition | Xbox One X Enhanced | 67% | Publisher Sale |
| The Surge 2 – Season Pass | Add-On | 33% | Publisher Sale |
| The Surge – Augmented Edition | Xbox One X Enhanced | 67% | Publisher Sale |
| The Town of Light | Xbox One Game | 75% | New Stories, New Voices |
| The Ultimate Sonic Bundle | Xbox One Game | 25% | DWG |
| The Witcher 3: Hearts Of Stone | Add-On | 60% | Super Saver Sale |
| The Witcher 3: Wild Hunt | Xbox Game Pass | 70% | Super Saver Sale |
| The Witcher 3: Wild Hunt Expansion Pass | Add-On | 60% | Super Saver Sale |
| The Witcher 3: Wild Hunt – Blood And Wine | Add-On | 60% | Super Saver Sale |
| The Witcher 3: Wild Hunt – Game of the Year Edition | Xbox One X Enhanced | 70% | Super Saver Sale |
| Thief | Xbox One Game | 85% | Super Saver Sale |
| This Is the Police | Xbox One Game | 75% | Super Saver Sale |
| This Is The Police 2 | Xbox One X Enhanced | 70% | Super Saver Sale |
| Three Fourths Home: Extended Edition | Xbox One Game | 75% | New Stories, New Voices |
| Thronebreaker: The Witcher Tales | Xbox One Game | 50% | Super Saver Sale |
| Through the Woods | Xbox One Game | 75% | New Stories, New Voices |
| Tom Clancy's The Division | Xbox Game Pass | 67% | Super Saver Sale |
| Tom Clancy's The Division 2 | Xbox One X Enhanced | 67% | Super Saver Sale |
| Tom Clancy's The Division Franchise Bundle | Xbox One Game | 75% | Super Saver Sale |
| Tom Clancy's The Division Gold Edition | Xbox Game Pass | 70% | Super Saver Sale |
| Tomb Raider: Definitive Edition | Xbox Game Pass | 80% | Super Saver Sale |
| Tour de France 2019 | Xbox One Game | 70% | Super Saver Sale |
| Transference | Xbox One Game | 75% | Super Saver Sale |
| Trine 4: The Nightmare Prince | Xbox One X Enhanced | 50% | DWG |
| Trine: Ultimate Collection | Xbox One Game | 60% | DWG |
| Trüberbrook | Xbox One Game | 50% | Super Saver Sale |
| Ultimate Marvel Vs CAPCOM 3 | Xbox One Game | 60% | Super Saver Sale |
| Vampyr | Xbox Game Pass | 75% | Publisher Sale |
| Vegas Party | Xbox One Game | 70% | Super Saver Sale |
| Virginia | Xbox One Game | 80% | Super Saver Sale |
| Wailing Heights | Xbox One Game | 60% | Super Saver Sale |
| Wandersong | Xbox Game Pass | 25% | New Stories, New Voices |
| War Tech Fighters | Xbox One X Enhanced | 50% | Super Saver Sale |
| Watch Dogs 1 + Watch Dogs 2 Gold Editions Bundle | Xbox One Game | 80% | Super Saver Sale |
| Watch Dogs 1 + Watch Dogs 2 Standard Editions Bundle | Xbox One Game | 80% | Super Saver Sale |
| Watch Dogs 2 | Xbox One Game w/ Free Trial | 80% | Super Saver Sale |
| Watch Dogs 2 – Gold Edition | Xbox One Game | 80% | Super Saver Sale |
| Watch_Dogs | Xbox One Game | 67% | Super Saver Sale |
| Watch_Dogs Complete Edition | Xbox One Game | 70% | Super Saver Sale |
| What Remains of Edith Finch | Xbox Game Pass | 50% | New Stories, New Voices |
| Where the Bees Make Honey | Xbox One X Enhanced | 80% | New Stories, New Voices |
| Woodle Tree Adventures | Xbox One Game | 70% | Spotlight Sale |
| World of Tanks – Rival Team Up Mega | Add-On | 67% | Super Saver Sale |
| World of Tanks – Type 59-II Ultimate | Add-On | 60% | Super Saver Sale |
| World of Van Helsing: Deathtrap | Xbox One Game | 67% | Super Saver Sale |
| World of Warships: Legends – Iwaki Typhoon | Xbox One Game | 50% | Super Saver Sale |
| World of Warships: Legends – Nimble De Grasse | Add-On | 50% | Super Saver Sale |
| World War Z | Xbox Game Pass | 70% | Publisher Sale |
| World War Z – Season Pass | Add-On | 40% | Publisher Sale |
| WWE 2K20 Deluxe Edition | Xbox One X Enhanced | 80% | Super Saver Sale |
| ŌKAMI HD | Xbox One X Enhanced | 50% | Super Saver Sale |
Xbox 360
*Offerte valide solo per membri Xbox Live Gold